3 Things to Consider when Purchasing a Second-Hand Car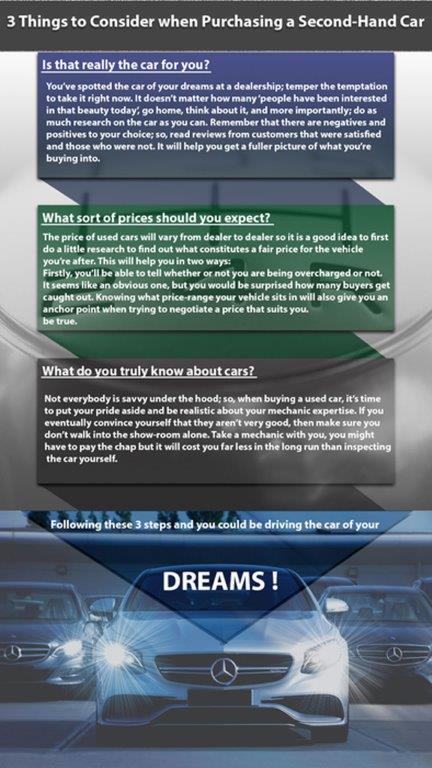 Determining whether or not to buy a used car is a huge decision, and if done incorrectly, can become an expensive and frustrating one. Very few people spend money on a used car and come out of it feeling some kind of buyer's remorse and that's partly because they haven't thought it through thoroughly enough (and partly due to the fact that a used car will never perform, sound or even smell like a new one).
So, to help you make the right choice the next time you consider buying a used car, here are some crucial things you should think about first:
Is that really the car for you?
You've spotted the car of your dreams at a dealership; temper the temptation to take it right now. It doesn't matter how many 'people have been interested in that beauty today', go home, think about it, and more importantly; do as much research on the car as you can. Remember that there are negatives and positives to your choice; so, read reviews from customers that were satisfied and those who were not. It will help you get a fuller picture of what you're buying into.
What sort of prices should you expect?
The price of used cars will vary from dealer to dealer so it is a good idea to first do a little research to find out what constitutes a fair price for the vehicle you're after. This will help you in two ways:
Firstly, you'll be able to tell whether or not you are being overcharged or not. It seems like an obvious one, but you would be surprised how many buyers get caught out. Knowing what price-range your vehicle sits in will also give you an anchor point when trying to negotiate a price that suits you.
The second reason is that it will give you a good idea of what sort of condition the car is in without having inspected it yet. If the price is suspiciously low for the condition you're being told its in, the deal is almost certainly too good to be true.
What do you truly know about cars?
Not everybody is savvy under the hood; so, when buying a used car, it's time to put your pride aside and be realistic about your mechanic expertise. If you eventually convince yourself that they aren't very good, then make sure you don't walk into the show-room alone. Take a mechanic with you, you might have to pay the chap but it will cost you far less in the long run than inspecting the car yourself.
Be thorough, take your time and inspect every inch of the car you're interested in. If it doesn't feel right, don't go near it: there are plenty of cars on the market.
Call Motors24 to buy a Quality Used Car
If you would like to know more about buying a used car for yourself, or to take a look at our selection of vehicles, be sure to contact Motors24 today for more information.